Warehouses and factories are large open spaces that can be challenging to keep at an even temperature. Staff constantly opening and shutting doors can also create significant noise.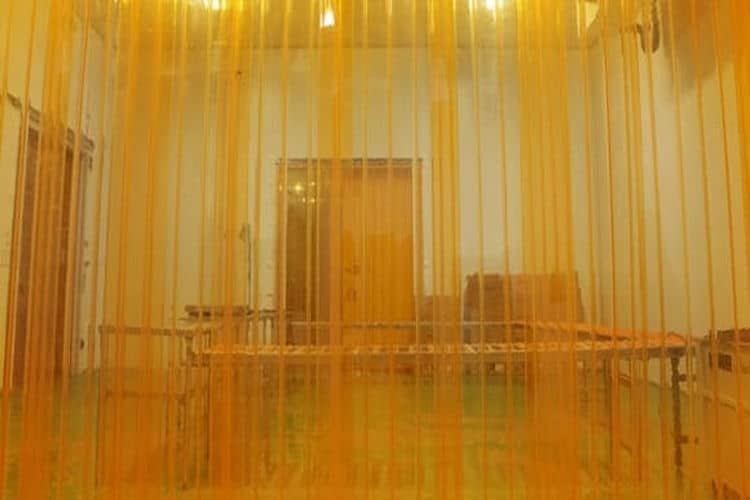 Industrial plastic strip curtains offer the door efficiency with the convenience of not having to open it. They also decrease energy bills and prevent heat loss.
Food & Beverage
Strip curtains provide a cost-effective way to create separation between cold and room-temperature areas in food production facilities. They are designed to prevent cool air from escaping refrigerated areas and warm air from entering, regardless of how often the doors are opened and closed. This helps to save energy and money, which is a major driver for growth in this industry. In addition, they also help to create a safe workspace for employees by keeping contaminants like pests from moving from one area to another.
Warehouses are ideal for strip curtains because they typically have a large amount of space to keep at a specific temperature and a high volume of traffic moving to and from the area. In addition, they often bring in products from outside and need to quickly transfer this inventory between the storage and production areas. By installing PVC strip curtains at key junctures, these businesses can prevent contamination and maintain the temperature they need while saving energy costs.
Food and beverage facilities can also benefit from the installation of these curtain solutions because they protect food from spoilage. Without proper temperature regulation, dry foods can absorb moisture, leading to mold or bacterial growth. These curtains help keep the food fresh and safe for consumption, which is required to comply with government regulations.
Additionally, these curtain solutions are perfect for restaurants and grocery stores because they provide a convenient way to seal off entrance points in their buildings without opening and closing doors. These entryways typically experience high volumes of foot and machine traffic, which makes opening and closing doors inconvenient and slows down productivity. The plastic strip curtains allow staff to move quickly through the entrance points while providing a visual barrier that prevents pests from entering the facility.
Pharmaceutical
Keeping pharmaceutical production clean and sterile is imperative to the effectiveness of the medications. Air curtains will help prevent contamination from outside the workspace and regulate temperatures. Kingman Industries' high-quality PVC strip door curtains will trap the cool air inside your warehouse, allowing easy in-and-out access for people moving between environments.
In addition, PVC curtains can be a great option for warehouses that need to control their energy costs and keep cold air from escaping. They are a great barrier against wind, dust, odors, fumes, and other outdoor contaminants that can disrupt work processes. They also block insects and rodents, which are a major concern for most business owners.
Air Curtains are also perfect for separating spaces that produce harmful particles, such as auto body shops and manufacturing environments. These contaminants aren't just annoying, they can be dangerous to your employees and customers. PVC strip curtains will stop them from entering and contaminating your workspaces while reducing noise and maintaining temperature control.
Healthcare
In a healthcare production environment, germs and airborne contaminants can spread easily. PVC strip curtains keep these things away from your employees' workspace, helping you create a safer working environment. This means you'll spend less on workers' compensation claims and health expenditures. Plus, healthier employees will work harder and be more productive.
Hospitals, pharmaceutical companies, and food manufacturing plants are all great places to use PVC strip curtains. These facilities often have a lot of movement for long hours each day. From utensils to people and waste, things are constantly moving at these locations. This constant movement can lead to a lot of dust and debris being kicked up. PVC strip curtains block this debris, keeping it at bay while allowing easy pass-through for pedestrians and vehicles.
Another benefit of PVC strip curtains is their energy efficiency. They help businesses save on energy bills by minimizing heated or cooled air loss at unprotected openings. This is especially important for facilities that need to manage specific temperature conditions, like warehouses or freezers. By blocking the flow of heat or cold and reducing energy bills, your business will see a significant return on its investment in these PVC curtains.
In addition, these PVC curtains are ideal for any business that needs to maintain a controlled working environment. These facilities need to maintain a consistent temperature for their production processes. Using PVC strip curtains can prevent cold air loss in refrigerated areas, reducing spoilage and frost build-up on machinery. These curtains also provide a barrier against pests, which can help keep your products and equipment safe from contamination. Additionally, these PVC strip curtains are easy to clean and require minimal maintenance.
Chemical
The chemical industry can involve working with a wide variety of hazardous materials. This means it is essential to keep them separated to avoid contamination or even accidents that could result in severe consequences. Using PVC strip curtains helps ensure that chemicals are kept safely away from people and other equipment. They can also be used to separate work areas from each other while maintaining a visual pathway. They are ideal for several applications in the chemical industry, including warehouses, factories, cold stores, chillers, and room or area partitions.
Another benefit of using plastic strip curtains in the chemical industry is that they can help to save electricity bills by keeping temperatures steady and helping to eliminate drafts. They can also help to control humidity levels which is important for the preservation of dry foods such as grains and cereals. They can prevent moisture from forming on metal cans or paper packaging, which in turn causes spoilage and contamination.
In addition, PVC strip curtains can also be used to protect employees from harmful micro-organisms that may enter the workplace, especially those who are not fully protected with gloves and masks. They can also reduce noise levels by enclosing noisy machinery to contain the level of sound pollution, and they can help prevent air-borne pollutants from entering and contaminating the workplace.
With stringent government regulations to provide safer working environments for employees, the demand for strip curtains is on the rise. They are an easy and cost-effective way to help maintain cleanliness in the workplace while reducing noise. They can also assist with temperature regulation while allowing for free passage of traffic and aiding visibility in the workplace, making them an excellent choice for any business looking to improve safety at work.
Oil & Gas
If you work in an industry that requires the transport of hazardous materials, then industrial plastic strip curtains are a perfect option for your business. They can prevent these contaminants from getting in and out of your warehouse or manufacturing facility without compromising the safety of your employees and other people working there. They also allow your staff to move around easily and work quickly and efficiently.
Warehouses and factories can have a difficult time maintaining a regulated temperature. This is because doors are frequently opened and closed in these environments. By installing PVC strip curtains at key junctures and exits in these facilities, you can avoid losing heated or air-conditioned energy due to heat loss from unprotected openings. This helps you save on electricity costs and reduces the waste you generate due to frequent door openings.
Additionally, PVC strip curtains are great insulators and can significantly reduce your energy bills in these spaces by preventing the loss of heat. This is especially useful in refrigerated spaces, as it prevents cold air from escaping freezer areas and allows warmer air to remain there. This can help you save on food spoilage, frost build-up, and energy costs in these environments.
Finally, strip curtains can improve workplace efficiency and productivity by creating a clear visual pathway that is easy for pedestrians to pass and vehicles like forklifts to maneuver through. They can also help in the creation of a clean workspace by hindering the movement of contaminants from one area to another. This is particularly helpful for industries like the food industry, where pests can cause a lot of damage and spoilage.