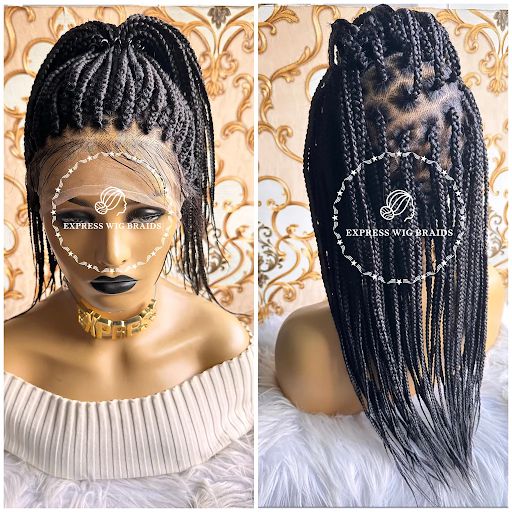 The beauty and versatility of braids have made them a go-to hairstyle for centuries, celebrated for their elegance and practicality. In recent years, Knotless braid wig has gained immense popularity as a game-changer in the world of hair extensions. With its seamless, natural-looking appearance and reduced tension on the scalp, this innovative wig has revolutionized the way we wear braids. Among the diverse styles available, the bohemian knotless braids stand out, combining a boho-chic aesthetic with the ease of knotless braids. In this article, we will delve into the world of knotless braid wigs, with a special focus on it.
Understanding Knotless Braid Wigs
Knotless braid wigs are a modern take on traditional braided wigs. Unlike their traditional counterparts, knotless braid wigs are constructed without the use of visible knots at the base of the braids. Instead, a feed-in method is employed, where hair extensions are gradually added to the natural hair, creating a smooth, seamless transition that appears as if the braids are growing directly from the scalp. This technique not only lends a more realistic look but also provides a comfortable and lightweight experience for the wearer.
Benefits of Knotless Braid Wigs:
Reduced Tension: Knotless braid wigs eliminate the tension caused by knots, reducing the risk of hair breakage and scalp irritation. This makes them a more hair-friendly option for long-term wear.
Natural Appearance: The absence of knots gives the braids a natural and undetectable appearance, making it difficult for others to discern that the hair is not one's own.
The Enchanting Charm of Bohemian Knotless Braids
This hairstyle brings a touch of boho-chic to the world of braided hairstyles. Inspired by the free-spirited and artistic bohemian culture, these braids offer a laid-back yet effortlessly stylish vibe. These hairstyles are characterized by their loose and textured appearance, emulating the carefree beauty of beach waves.
Features of Bohemian Knotless Braids:
Loose Texture: Unlike traditional tight braids, bohemian knotless braids feature a loose, relaxed texture that adds volume and movement to the hair.
Soft Waves: The ends of the braids are often left unsealed or slightly curled, creating soft waves that enhance the bohemian look.
Boho Accessories: These hairstyles are often adorned with boho-inspired accessories like beads, shells, feathers, or ribbons, adding a touch of whimsy and individuality to the style.
Styling and Maintenance
Protect at Night: To avoid tangling and friction, loosely braid your knotless braid wig before retiring to bed or wrap it in a silk or satin scarf.
Regular Cleansing: Wash your wig regularly with a sulfate-free shampoo and conditioner to keep it clean and fresh.
Conclusion
The knotless braid wig, particularly the captivating bohemian knotless braids, has undoubtedly earned its place as a beloved hairstyle in the beauty community. With its seamless, natural appearance and comfortable wear, it's no surprise that this trend continues to grow in popularity. Embrace your free-spirited side with bohemian knotless braided wigs, and enjoy the effortless charm and beauty they bring to your overall style.