The guitar, an exquisite symphony of strings and wood, is one of the most beloved and versatile musical instruments around the globe. Its origins can be traced back over 4000 years to ancient civilizations, but it's in its present form that the instrument has truly captured the human imagination. From the intricate flamenco rhythms echoing through Spanish courtyards to the soulful strums permeating blues clubs, the guitar has a language that transcends borders.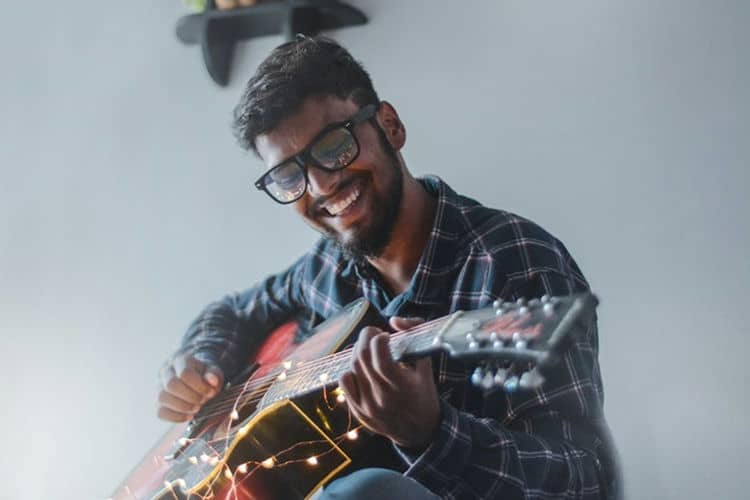 Woven into its rich history are tales of passion, romance, and rebellion. Each type of guitar, be it acoustic or electric, offers a unique sound palette for expressing a range of emotions.
The joyous pluckiness of an acoustic riff or the raw power held within an electric solo demonstrates how diverse this instrument truly is. It takes only six strings stretched over frets on a wooden body to create magic that touches hearts and souls. In this article, we take a look at some of the wonderful benefits that such an instrument can provide.
Looking to start your own guitar journey? Check out https://staytunedguitar.com/ to learn the basics.
Strumming Across Borders: The Importance & Popularity of Guitar Playing Worldwide
In today's world where digital music production often overshadows traditional instrumentation, it's heartening to note that playing guitar continues to enthrall millions across various age groups and cultures. A study by Fender found that around half of beginner and aspirational players in both the US and the UK are women – emphasizing how far-reaching its appeal truly is. The ubiquity of guitars on concert stages, music schools, and households worldwide is indicative not only of their cultural significance but also their accessibility as an instrument; because whether you're serenading a loved one with gentle arpeggios or rocking out an anthem before thousands at a music festival – there's room for every kind expression within this fretted wonderland.
Playing guitar isn't just about creating harmonious melodies; it's also about personal expression which stimulates emotional well-being. This leads us into our exploration of how embracing this stringed marvel can serve not just entertainment or artistic release – but as potent therapy for both body and mind.
The Physical Health Benefits of Playing Guitar
Enhancing Hand-Eye Coordination: The Synchrony of Fingers and Eyes
Playing guitar doesn't merely constitute a recreational activity; it is an invigorating exercise that substantially enhances your hand-eye coordination. When your fingers are strumming the strings or pressing down on the frets, they're in conversation with your eyes, which are concurrently reading sheet music or observing finger placements.
This beautiful synchrony between the eyes and hands translates to improved motor skills. Scientific studies bolster this assertion.
Research published in the Journal of Neuroscience indicates that learning to play a musical instrument like the guitar aids the development of motor skills in individuals, thereby improving their hand-eye coordination significantly. This benefit is especially potent for children whose brains are still developing, but adults too can reap substantial gains.
Strengthening Heart and Reducing Stress: The Cardiovascular Symphony
The act of playing guitar cultivates more than just physical adeptness; it also fosters emotional well-being by granting life's stressors a melodious reprieve. As you immerse yourself in the rhythmic current of music, your heart rate slows down, and cortisol—the primary stress hormone—decreases. This ebb and flow not only induces positive emotions but also bolsters heart health.
A research study by British cardiologists found a direct correlation between playing musical instruments like guitar and improved cardiovascular health. The rhythmic patterns associated with playing guitar have been shown to reduce heart rate variability (HRV), thereby reducing heart-related stress—a critical factor in promoting overall cardiac health.
Boosting Immune System Functioning: The Melodic Elixir
Beyond serving as an antidote to stress, strumming those guitar strings might also bolster your body's natural defense mechanism—the immune system. Playing this six-stringed instrument stimulates sensory-neural pathways leading to increased production of Immunoglobulin A—an essential antibody that plays a crucial role in immune function.
An intriguing study conducted at Loma Linda University School identified enhanced IgA levels among participants who played an instrument regularly compared to non-musicians. Remarkably, this immunological advantage was not merely fleeting—it was sustained even under conditions of stress induced during experiments—thereby suggesting robust evidence for immunity-boosting benefits conferred by regular engagement with musical instruments such as guitars.
The Mental Health Benefits of Playing Guitar
Nurturing Cognitive Abilities: The Intellectual Resonance of the Guitar
The act of strumming a guitar and creating harmonious melodies is not only an art form but also serves as an intensive cognitive workout. Learning to play any musical instrument, especially one as intricate as the guitar, significantly enhances memory and concentration.
The process entails memorizing chords, reading sheet music, and comprehending rhythm and timing rules – all activities that stimulate various parts of the brain. This stimulation fosters neuroplasticity – our brain's ability to adapt and reorganize itself.
A study by Schlaug et al., (2005) reported that instrumental training such as guitar playing increases the volume of certain brain regions, enhancing cognitive abilities in both children and adults. Another research article published in Frontiers in Psychology highlighted how playing a musical instrument could delay cognitive aging and bolster overall mental functionality.
Harmonious Healing: Strumming Stress Away
Beyond spurring intellectual development, playing the guitar has profound effects on mental health and emotional well-being. The soothing resonance produced by a semi-acoustic six-string has long been acknowledged for its therapeutic attributes. As fingers dance along the fretboard forming melodious notes, they concurrently create an atmosphere conducive to tranquility.
According to a study published in the British Journal of Psychiatry, engaging in creative activities like playing guitar can substantially reduce anxiety levels, offer emotional release, and elevate mood. Similar findings were reported by Stuckey & Nobel (2010) who found evidence for music's healing impact on mental health disorders.
To exemplify this effect, consider Jake's story; he was diagnosed with severe anxiety disorder at age 23. Traditional treatment methods provided little relief until he discovered his love for guitar playing through a friend's recommendation.
Over time, Jake was able to channel his anxious energy into learning new songs or creating his own music – an endeavor that brought him comfort and calmness. In essence, whether you're strumming basic chords or executing complex arpeggios on your beloved six-string wonder – you're doing much more than just making music; you're embarking upon an extraordinary journey of cognitive enrichment while simultaneously nurturing your mental well-being.
The Social Symphony: Benefits of Playing Guitar
Promoting Harmonious Interactions: The Social Bonding & Communication Aspect
Playing the guitar, especially in a group or ensemble setting, can act as a powerful catalyst for social bonding and enhancing communication skills. When individuals come together to create music, they engage in a shared experience that necessitates cooperation, collaboration, and mutual understanding.
Each musician must listen attentively to the others, communicate effectively about timing and rhythm, and work in harmony to produce a cohesive performance. These interactions help to build essential soft skills such as teamwork, negotiation, and assertiveness.
Anecdotal evidence abounds regarding the role of shared musical interests in fostering deeper relationships. Friends recall how jam sessions led to profound discussions about music theory or composition techniques that ultimately strengthened their bond.
Parents note how sharing their love for guitar with their children created a common ground for conversation and connection. In essence, these shared experiences fostered by playing guitar can serve as a social glue that binds people together.
Strumming the Strings of Self-assurance: How Guitar Boosts Confidence & Self-esteem
Mastering any skill can undoubtedly boost one's self-confidence and self-esteem; however, playing guitar has some unique aspects that make its impact particularly significant. Learning an instrument is not an easy feat – it requires discipline, persistence, and patience.
As one progresses from strumming simple chords to executing complex fingerstyle techniques or improvisation sessions with ease, there's an inherent sense of achievement that translates into increased confidence. Consider this real-life example; Mike had always been shy and struggled with his confidence levels until he took up playing guitar during his high school years.
Not only did he find solace in expressing himself through music but also found his confidence soaring each time he mastered a new song or riff on his guitar. Soon enough he was performing at local open mic nights where the applause he received worked wonders on his self-esteem crucially reinforcing his newfound skill-based confidence – all thanks to learning how to play the guitar!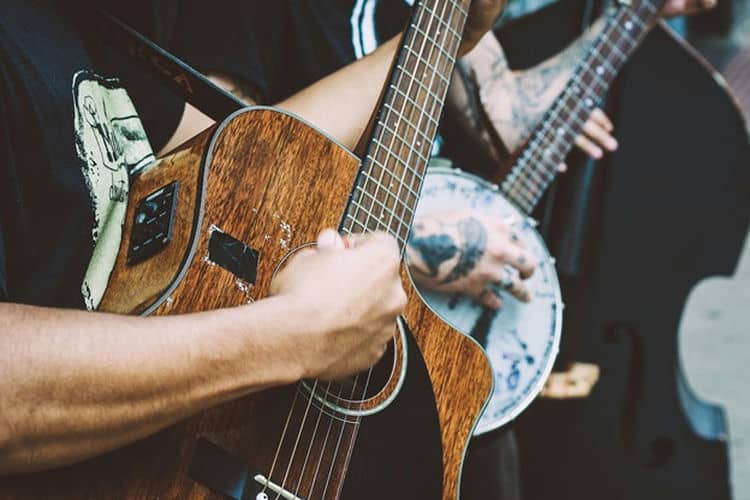 Conclusion: Strumming the Strings of Well-being
The Resounding Health Benefits of Playing Guitar
The habit of playing guitar transcends the mere creation of melodic symphonies, intertwining with our physical, mental, and social health. The dexterity required to strum and fret reaps rewards in enhanced hand-eye coordination and fine motor skills. Moreover, mounting research evidence substantiates the heart-healthy benefits linked to this beautiful art form.
The power of music as a conduit for stress relief cannot be overstated; the soothing strains from a guitar can significantly ameliorate our stress levels, bolstering our immune system's functionality in return. Additionally, cognitive abilities receive a substantial boost through consistent guitar-playing sessions.
A Harmonious Path to Personal Growth
Guitar playing doesn't just resonate with personal health alone but extends its beneficial chords into the social sphere. Participating in musical ensembles or informal jamming sessions cultivates essential social skills that foster stronger interpersonal relationships. Furthermore, learning to express oneself through this versatile instrument can instill a sense of confidence and self-esteem that permeates all aspects of life.
To encapsulate this exploration into the health benefits of playing guitar – it is evident that every chord struck contributes not just to creating harmonious melodies but also reinforces various aspects of well-being. So whether you are an accomplished guitarist or an enthusiastic beginner looking for a rewarding hobby – remember that each note you play is potentially tuning your path towards enhanced physical, mental, and social health.