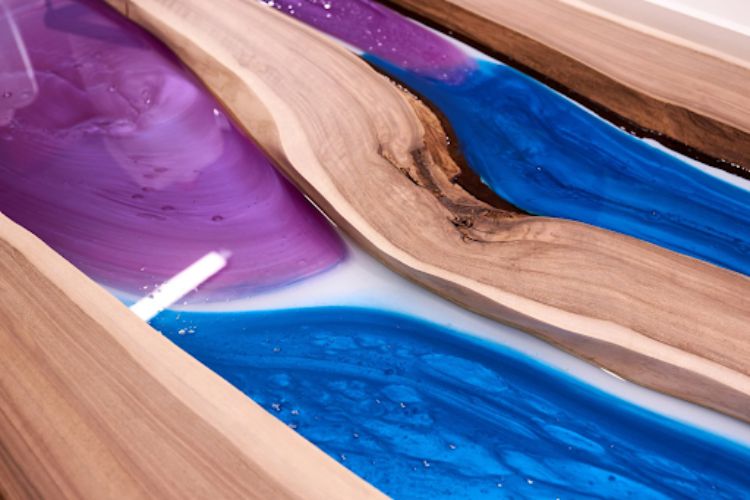 Why did the bicycle fall over in the garage? Because it was two-tired!
But while we can't help tired bicycles stand upright, we can absolutely help you revamp your garage with a variety of alluring epoxy garage floor colors. Whether you're looking to give your garage a fresh makeover or just exploring your options, we're here to dazzle you with an array of epoxy flooring choices for the garage.
So jump right into this!
Jump Into the Deep Blue
Say hello to the classic, calming deep blue. Applying a high-quality garage floor coating in this hue will make your garage feel like a cool, serene sea. Worried about the coating fading over time?
Fear not! Epoxy garage flooring stands to the test of time, making sure your garage looks like a deep blue ocean for years to come.
Unleash the Drama with Black
Black is the color of drama and sophistication. Think of it as a little black dress for your garage floor. It's daring, fashionable, and adds a touch of mystery.
This epoxy garage floor coating lends your garage a unique personality. And, even better, it provides excellent garage floor protection against dirt and spills.
Feeling Sunny With Yellow
Looking to add a spark of energy to your space? Yellow is your color.
Yellow epoxy flooring for the garage is as vibrant and inviting as a sunny day. It brightens your garage, and its shine remains intact even under heavy use, thanks to the resilience of epoxy garage flooring.
The Comfort of Beige
If you prefer a more traditional, homey feel, beige might be your go-to garage floor coating. It's understated, and elegant, and creates a warm and welcoming atmosphere in your garage.
With a high-quality garage floor coating in beige, your garage won't only be functional but aesthetically pleasing too.
Get Creative With Multicolor Flakes
Who says your garage floor should be a single color? With multicolor flakes, you can add fun and variety to your epoxy garage floor coating.
You get to enjoy a different mix of colors every time you step into your garage. And, just like solid colors, this unique style offers reliable garage floor protection, keeping your floor looking new, despite the heavy traffic.
Unleash the Outdoors With Green
Last but not least, green. Green is a refreshing and uplifting color.
It can turn your garage into a calm, refreshing sanctuary. As with all epoxy garage flooring options, a green garage floor coating not only adds a pop of color but also serves as a durable layer of protection for your garage floor.
Finding Your Palette in Epoxy Garage Floor Colors
From serene blues to vibrant yellows and traditional beiges, the range of epoxy garage floor colors allows you to transform your garage into a space that truly represents your style and personality. Choosing the right shade is just as fun as seeing the transformation itself. 
For more helpful blog posts like this, feel free to browse this site.