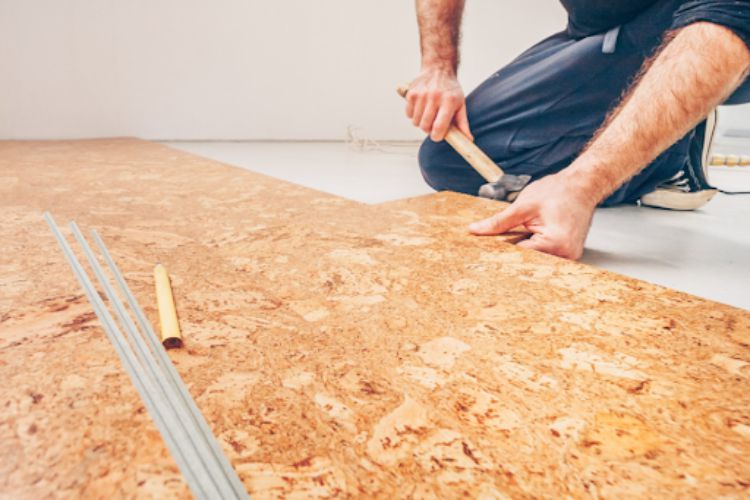 Are you looking to install new flooring in your home? Buying and installing new flooring is a huge project but it's well worth the effort.
Once you get past the preparation you're left with something beautiful. With just a bit of effort, you'll have transformed an older-looking part of your house into something modern.
While there are many options out there, not all are easy to install. You likely want to find options that work for your budget and won't require too much effort to get up and running.
What is the easiest flooring to install? Let's take a look at some of the options.
Laminate 
A common type of flooring that is constructed of several layers of synthetic materials is laminate flooring, including compressed wood particles, resin, and a top layer that mimics the look of real wood or stone. What makes laminate flooring one of the easiest types of flooring to install is its interlocking design, which allows for a quick and easy installation process.
Unlike hardwood or tile flooring, laminate does not require any special adhesives or tools, making it a great DIY option for homeowners. Additionally, it is a cost-effective and durable option, making it a popular choice for many homes and businesses.
Vinyl 
Vinyl flooring is a synthetic flooring option that is made from a combination of polyvinyl chloride (PVC) and other additives. It comes in a variety of styles, such as sheets, tiles, and planks, and can mimic the look of natural materials like wood and stone. One of the main reasons vinyl is considered one of the easiest flooring options to install is because of its flexibility and versatility.
It can be easily installed over most existing floors, making it a great choice for DIY projects. Also, many vinyl options come with a click-lock installation system, eliminating the need for adhesives and making the installation process quick and easy. Additionally, vinyl is a durable and best flooring choice, making it a popular option for busy households.
Engineered Hardwood
Engineered hardwood is a type of flooring made from a top layer of real wood and multiple layers of plywood underneath. One of the primary reasons engineered hardwood is always considered one of the easiest new flooring to install is because it can be easily floated, glued, or even stapled down to the subfloor.
This eliminates the need for an extensive nailing or adhesive process, making it a quick and straightforward installation. Additionally, hardwood floors for sale are available in various forms, including planks and tiles. They are suitable for installation on any level of the house, making it a versatile and user-friendly choice for homeowners.
Carpet Tiles 
Carpet tiles are a type of flooring that consists of individual carpet squares. Unlike traditional carpets, carpet tiles can be easily installed without the use of special tools or adhesives. They can be simply laid down on a clean and level surface, making it a much faster and simpler process. 
Learn the Easiest Flooring to Install Today
In conclusion, when it comes to the easiest flooring to install, there are many factors to consider. Yet, based on its ease of installation, laminate flooring seems to be the most user-friendly option. In addition, for those seeking professional assistance, expert Twin Falls carpet installer services provide guidance and seamless installation for a stress-free flooring upgrade.
With its interlocking design and simple click-and-lock method, it is a great choice for DIY projects. So why wait? Start your flooring project with laminate today!
If you find this helpful and want to read more great content, check out our latest blog posts now!