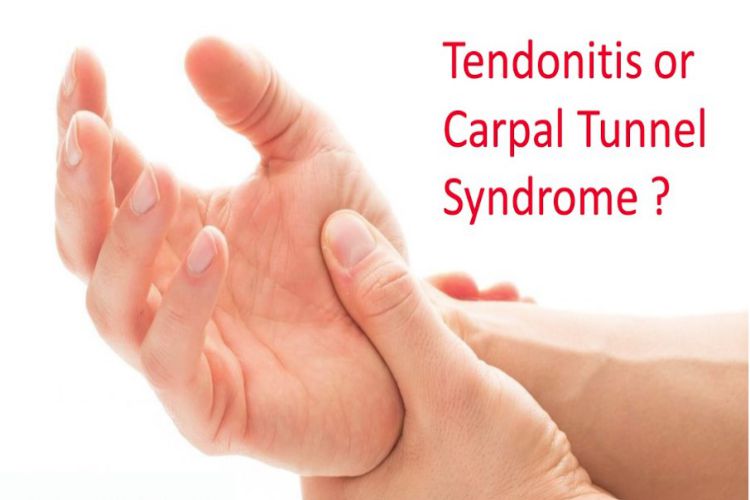 Chronic pain in the hands is initially treated with rest, medication, and physical therapy, but these common treatments often offer little to no relief. Carpal tunnel or tendonitis may be the culprits in these situations, either of which will require specific treatment to relieve the pain.
Symptoms of carpal tunnel 
The carpal tunnel is a condition in which the median nerve is compressed at the wrist, causing irritation around the area. 
The severity of the symptoms depends on how seriously the nerves are compressed. The most common symptoms of carpal tunnel are numbness and tingling, often involving the thumb, index, middle, and portion of the ring finger. 
The pain associated with carpal tunnel could also be labeled as a burning sensation or a pin-and-needle-like pain typically only relieved by shaking out the affected hand. Other reported symptoms include a sensation of swelling of the hand and fingers, weakness, and muscle wasting in some severe cases. 
Treatment for carpal tunnel
The severity of the carpal tunnel will determine the treatment plan. Non-invasive methods will be used first, such as a wrist brace, physical therapy, or oral steroids. 
A doctor might also recommend fish oil and turmeric to help reduce inflammation. When these methods fail, oral steroids may be substituted with injectable steroids, a powerful countermeasure against severe pain and inflammation. 
The last case scenario for relieving carpal tunnel effects is surgery, which involves cutting the carpal ligament to reduce the compressing of the median nerve. 
Unfortunately, this procedure is not guaranteed to fully resolve carpal tunnel syndrome symptoms fully and includes several risks and lengthy recovery time. Learn more here: https://www.carpaltunnel.com/articles/typical-recovery-time-after-carpal-tunnel-surgery.    
Symptoms of tendonitis 
Tendonitis is inflammation of the tendons, which can result in minimal wrist and hand movement. Symptoms of tendonitis include swelling along a tendon, redness, and grinding or clicking sounds when moving the wrist. In addition, tendonitis is often a result of trauma, repetitive motion injuries, arthritis, diabetes, increased BMI, and age.  
Treatment for tendonitis 
Like carpal tunnel syndrome, conservative methods are used initially to treat symptoms. Immobilization with the use of a splint or brace can help reduce further injury and irritation to the affected tendon.
A physician may prescribe anti-inflammatory medications, or they may recommend over-the-counter, nonsteroidal drugs such as Motrin or Aleve. Physical therapy is also a beneficial option to reduce inflammation, tighten muscles, and strengthen injured tendons. 
Surgery as a means of relieving symptoms of tendonitis is very rare. However, often if conservative care fails, injections may be used as a more potent means of addressing discomfort and swelling. 
Wrap up
The ultimate difference between carpal tunnel syndrome and tendonitis is that one affects the nerves, while the latter affects the tendons. 
The similar symptoms of tendonitis and carpal tunnel syndrome can make it difficult to diagnose initially. Still, since conservative treatment is relatively the same, both are usually resolved by simple means. 
For severe nerve issues, carpal tunnel syndrome may require more advanced treatment, such as surgery.