We're all familiar with celebrities using private planes for privacy and convenience. However, many successful entrepreneurs choose to fly privately, too. Why do they do this, rather than flying first class or business class? Here are the most popular reasons entrepreneurs give for chartering a private jet.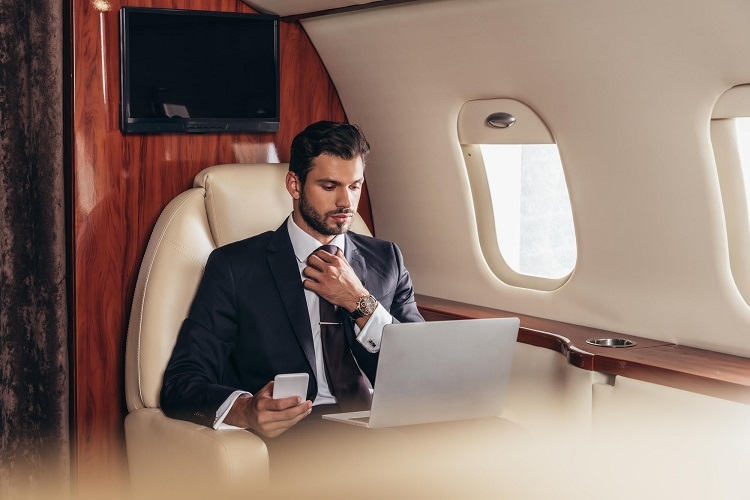 Top Four Reasons Why Entrepreneurs Fly Privately
 1. It Saves Time and Stress
Whether entrepreneurs are looking for more time to relax, do business or both, private flights are the answer. Flying privately gives them access to around ten times more airports than airlines serve. This enables them to depart closer to home and land nearer their destination, cutting down on transfers. Plus, booking flights to their own schedule, rather than that of an airline, cuts down on wasted time. There's no need to arrive early or spend the night in a hotel waiting for a return flight.
Private flyers save hours at the airport, too. There are no mandatory early arrivals or long queues to check in or retrieve luggage. Check-in is quick and simple, and luggage and customs matters are handled by the fixed base operator (FBO) and crew. And of course, there's less time wasted during the flight…
2. They Can Work and Hold Meetings In-Flight
Private jets can offer all the space, privacy, peace, quiet and amenities entrepreneurs need to do business as normal. Even in smaller planes, there are usually pull-out work tables. Entrepreneurs can charter jets with high-speed Wi-Fi, Blu-Tooth connectivity, large HD screens and even a meeting room complete with conference table. Meetings and conversations, whether in-person or online, can be held privately, keeping sensitive business information confidential.
Equally, if they value travel time as a chance to relax, entrepreneurs find a private jet is the ideal mode of travel. They still value the peace, quiet and privacy, and enjoy the entertainment facilities, high-quality refreshments and luxurious surroundings that private jets offer.
3. They Can Enjoy Private Airport Facilities
Whether they want to be productive or just relax before or after a flight, entrepreneurs find flying privately is the best choice. Fixed Base Operators (FBOs) have their own airport terminals or exclusive areas within a terminal. These usually include a VIP lounge and sometimes a meeting room too. Some FBOs even offer accommodation, bespoke catering, and other services.
4. Their Trip Can Be Tailored to Their Needs
Top-class private jet brokers such as Paramount Business Jets ensure that every trip is tailored to their clients' needs. This goes beyond finding the perfect jet for their requirements (Bedroom? Shower? Free Wi-Fi? Full galley?). They can also arrange a host of additional services for before, during and after the flight. These can include specialized catering, concierge services, security staff and transfers.
Unbeatable Convenience, Privacy and Safety: Private Flying Offers it All
Private jet charter has always offered a level of peace, privacy, space and convenience unmatchable by commercial flights. However, in recent years a growing number of people—choose private flights for the safety they offer, too. With scientists predicting more problem viruses in the future and Covid-19 still an issue, reducing face-to-face contact has become a priority. Private flying means contact with far fewer passengers and staff, reducing risk. So why not join the trend—and thousands of successful entrepreneurs—and fly privately on your next trip?