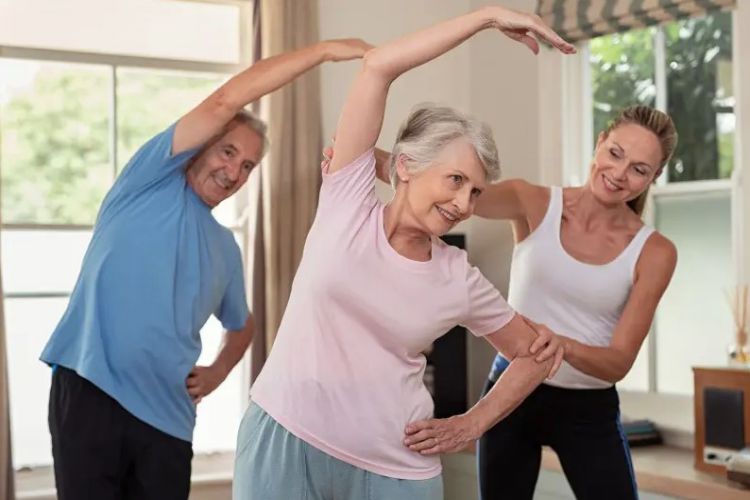 Getting at least some physical and mental exercise on a regular basis is essential for human beings in general, irrespective of one's age. However, the exercise routines themselves can differ vastly from person to person if they are to be both effective and safe. These exercise regimes are created in careful consideration of several factors, such as the individual's body weight, gender, medical condition, psychological condition, fitness level, fitness goals, availability, likes, dislikes, and of course, age. 
For people over the age of 55, regular exercise is perhaps more important than it is for any other age group. Stay with us as we explain why exercising should be a priority for seniors, as well as what kind of exercises best suit them.
The Importance of Exercise for Seniors
Aging has a direct negative impact on our body and mind, weakening them both at a slow but inevitable pace after 30 (rough average). Initially, the decline is minimal and may not even be present to any significant degree for some people. However, the effects of aging and the rate of decline become too significant to ignore after 60 for most of us.
Scientific studies over the years have proven that physical and mental exertion in planned routines can help seniors combat age-related physical and cognitive decline with very encouraging results. In fact, even people in the early stages of dementia can benefit from carefully planned exercise routines. Additionally, a combination of physical and mental workouts can even delay the progress of a disease as dreaded as Alzheimer's.
Can Someone in an Assisted Living Community Benefit from Exercising?
Barring medical constraints, there is no reason why someone living in an assisted living community will not be able to benefit from regular physical and mental exercise. If anything, the staff at any good community for senior living will wholeheartedly encourage such an endeavor, while also ensuring that their members receive the professional and medical guidance they need to exercise safely.
Note that in the case of elders with mild to severe cognitive impairment, it is highly recommended that they live in a community that has a multileveled Memory Care and Dementia Care program. Along with several other measures that are incorporated in these programs to keep members safe and healthy, adaptive physical and mental exercises are very much a part of such programs at every level. For example, this Nashville-based assisted living community focuses on complete brain and body workout routines that are personalized in accordance with each member's medical constraints, likes, dislikes, and requirements.
What Kinds of Exercises are Found to be Most Effective in Keeping Seniors Healthy? 
In general, a senior's daily exercise routine should be divided into two parts.
Mental exercises to keep the mind sharp.

Physical exercises to keep the body strong inside and out.
Given that people past a certain age often develop medical conditions, a proper routine that can be beneficial for an elder can only be devised after consulting with a properly qualified trainer and their doctor. Nevertheless, resistance training and certain games are found to be highly effective in helping elders stay sharp and strong for many more years to come.
Resistance training or strength training will generally benefit seniors more than cardiovascular exercise. It can prevent further muscle and bone loss in seniors, in addition to boosting their weakened immune systems. Under the right guidance, resistance training can even help seniors build back a portion of their previously lost muscle mass, which in turn can reduce the debilitating effects of osteoarthritis.
As far as exercising the mind is concerned, the following games are found to be most effective.
Crossword puzzles, scrabble, cryptograms, and anagrams.

Traditional card games like bridge and poker.

Classic board games including but not limited to chess and checkers.

Video games in the genre of

racing, 3D platforming, and FPS

.
Note that for people with neurodegenerative diseases to reap benefits from any mental exercise, all games must provide an increasing difficulty curve. Stagnation will result in their brains reverting back to their original path of swift decline. The same does not happen as far as the effects of physical exercise are concerned.