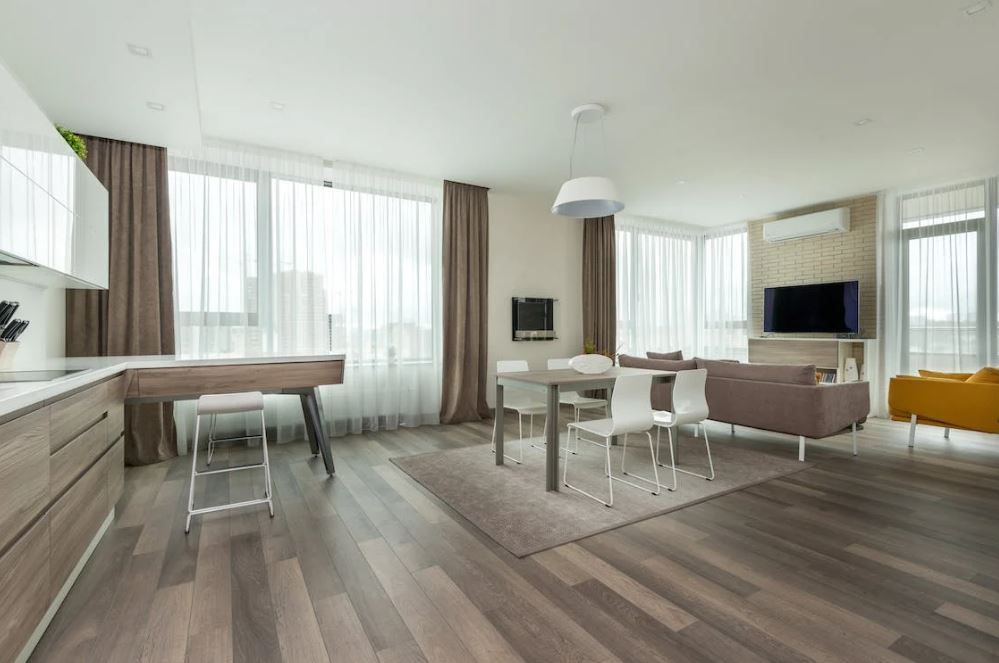 Decorating a spacious room in your home can be an exciting endeavor, offering endless design possibilities. However, with great size comes great responsibility, as designing a very large room requires careful planning to ensure it feels cozy, inviting, and well-balanced. 
This article explores key considerations and decorating tips for those expansive living areas.
Start with a Solid Foundation
Before diving into the decor, it's crucial to establish a solid foundation. For instance, choose flooring that suits the room's purpose and style. Hardwood, tile, and large area rugs are popular choices. Use rugs strategically to define different zones within the room. Also, when it comes to paint colors, consider the room's natural light and the ambiance you want to create. Lighter shades can make a large room feel more open and airy, while deeper tones can add coziness.
Create Functional Zones
Break down the large space into functional zones based on your needs and lifestyle. Common zones in a large living area, for example, might include a seating area, entertainment zone, dining space, and reading nook. So, you might arrange furniture to create conversation areas. Consider using sofas, sectionals, and accent chairs to define seating zones.
If your room includes a TV or entertainment center, make sure it's well-placed for comfortable viewing. Consider built-in cabinetry or shelving to create a focal point. If space allows, add a dining table and chairs for family meals or entertaining. Ensure it's proportionate to the room size. Plus. You might like to create a cozy reading corner with a comfortable chair, floor lamp, and bookshelves.
Scale Matters
In a large room, furniture scale is crucial. Oversized furniture and fixtures can overwhelm the space, while tiny pieces can get lost. Ensure that your furniture fits comfortably within the zones you've created. For example, when it comes to sofas and chairs, opt for substantial, well-proportioned seating that anchors the seating area.
Choose a coffee table that's appropriately sized for the seating arrangement. It should be within easy reach of the seating. Use larger light fixtures, like chandeliers or statement pendant lights, to fill vertical space and draw the eye upward. 
Add Layered Lighting
Effective lighting is essential in a large room. Use a combination of ambient, task, and accent lighting to create a warm and inviting atmosphere. Examples include overhead fixtures, like chandeliers or ceiling fans with lights, which provide general ambient illumination. As for tor task lighting, floor lamps and table lamps are great for reading nooks or dedicated workspaces. 
You can then use wall sconces, track lighting, or picture lights to highlight artwork, architectural features, or decorative elements, thus providing your accent illumination.
Ceiling Fans for Airflow and Style
Incorporating ceiling fans into a large room is a smart choice. They help maintain comfortable temperatures by distributing warm air in the winter and cooling breezes in the summer. They're also energy-efficient and can reduce heating and cooling costs. Many ceiling fans have built-in lights, serving dual purposes of illumination and airflow, and they can provide aesthetic appeal, too. Ceiling fans come in various styles, from sleek and modern to classic and ornate, making them a decorative addition to your space.
Size definitely matters when choosing ceiling fans for a large room, though. For very large rooms, consider fans with larger blades for better air circulation. Better yet, you might like to buy multiple large ceiling fans to place on the ceiling so you get the cooling effect you desire. 
Furniture Arrangement Tips
Proper furniture arrangement can make a large room feel cohesive. Symmetrical arrangements often work well in large rooms. Consider placing identical furniture pieces on either side of a central point, such as a fireplace or media console. Also, use area rugs to define and anchor specific zones within the room. Ensure that furniture pieces within each zone sit partially on the rug. In some cases, floating furniture away from walls can create a more intimate seating arrangement. This can work well when there's ample space behind the furniture.
Wall Decor and Accessories
Large walls can feel bare if not properly adorned. You could thus create a gallery wall with a collection of artwork, photos, or mirrors. This kind of display adds visual interest and personality. Invest in a large, eye-catching piece of art that becomes a focal point for the room, too. Furthermore, add texture to a wall with wainscoting, shiplap, or wallpaper to break up large expanses.
Personal Touches
Finally, don't forget to add personal touches that reflect your style and personality. Whether it's family photos, cherished heirlooms, or unique decor items, these personal elements make your large room feel like home. 
Decorating a very large room is an opportunity to get creative and design a space that perfectly suits your lifestyle. By considering the room's function, furniture scale, lighting, and decor elements, you can transform a vast expanse into a warm, inviting, and harmonious living area that you'll enjoy for years to come.