Podcasting has long been a popular hobby, but it's only in recent years that it's become an established market with many figures involved in the media spotlight. That said, people continue to be interested in producing their own audio content, whether it be regularly or once in a while.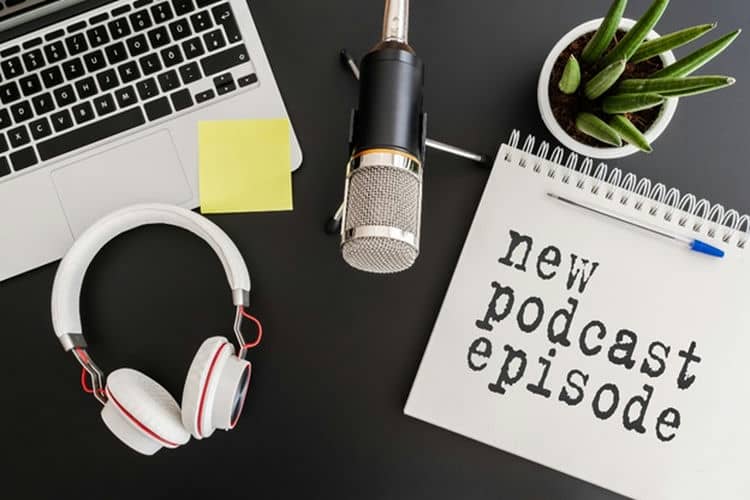 Are you perhaps interested in creating your own format but aren't sure how to write podcast scripts? In this article, we'll be talking about how to go about writing a podcast script in a way that both you and your co-hosts can talk without sounding too artificial. Read on to discover more!
Know Your Audience
When launching a podcast, it is important to know your audience and speak like you would when having a conversation with them. You want to be engaging and relatable, providing useful insights and discussing relevant topics. Start by researching your target audience, understanding their interests and needs, and be sure to address those in your podcast script.
Outline Your Content
Writing a podcast script that sounds naturally conversational requires thoughtful preparation. The first step is to outline the podcast content to ensure the goal of the podcast is achieved.
This will help craft a clear narrative while creating a structure that can be followed throughout the podcast. Create a clear introduction that attracts listeners, break up your podcast into subtopics, and ensure that each topic flows logically and naturally. Use the outline to fill in the dialogue.
Write Like You Speak
Additionally, the script should be written in an informal, conversational tone to create an inviting atmosphere for the audience. When developing the script, be sure to include subtle pauses and natural hesitations and accentuate the inflection in the conversation for a more natural conversation flow.
It is also important to be spontaneous by injecting a few "ums" or "uhs" to make the conversation sound less stiff and more organic. Finally, listen to the way the script flows when it is read aloud so that any necessary tweaks can be made before the podcast is recorded.
Don't Hesitate To Use Everyday Words
Focus on using everyday words to make your language sound more inclusive and natural. Avoid using technical jargon and terms that your audience may not be familiar with.
Using contractions like "It's," "Can't," and "Don't" can make a script sound much more conversational and easier on the ears. Taking note of the tone and pacing of each exchange can go a long way in making conversations come to life.
Write In Short Sentences
Write in concise sentences for a more natural conversation. By doing this, the script appears natural and easy to follow.
Try using no more than 10-15 words per sentence. This will prevent the script from politicizing, leading to an equally engaging and natural-sounding script. To keep the audience engaged, switch up the sentence structure by including lists, questions, and direct addresses that imitate everyday conversation.
Ask Questions to Listeners
Specific questions should be asked that give depth to the conversation and open up meaningful dialogue. Taking a moment to ask your audience a question can help transition from conversation topics and give the audience a chance to interact with the show.
Inviting listeners to ask questions can open up new topics to discuss that coincide with the show's structure. Additionally, having the host ask thought-provoking questions that encourage the audience to engage can give the podcast a casual and light feel.
Add Personal Stories and Anecdotes
When crafting a podcast script, it is a good idea to add personal stories and anecdotes. Not only does this make the script more memorable and engaging, but it also adds a sense of authenticity. Additionally, it helps to make the dialogue sound more natural and conversational.
To make sure the script doesn't sound too contrived, a scriptwriter should use his or her own stories and anecdotes rather than trying to make up a story for the sake of the podcast. These moments should be honest and heartfelt, allowing them to shine through the script. This is a great opportunity for the podcast host to be vulnerable and to connect with his or her audience in a meaningful way.
Avoid Over-Scripting
The script should not sound too robotic or pre-recorded. To achieve this, it is important to avoid over-scripting. Instead, think in terms of providing the general framework and conversational flow of the podcast.
While some may prefer everything to be written word-for-word, it is often a good idea to just keep an outline. Let the hosts build the conversation from there.
Additionally, rather than writing out scripted jokes, proper improvisation and ad-libs can be used to keep the show interesting and lively. This will make the podcast much more enjoyable and will ensure that it sounds naturally conversational.
Practice and Get Feedback
Start by reading your written script out loud and take note of any areas where you may need to make adjustments. Ask friends, family, or coworkers to read your script and provide feedback about how it could be improved.
Record a podcast episode as you go through the script. Reviewing the recording can help to give you an idea of what it will sound like.
Use the feedback you have received to practice and make adjustments. With practice and guidance from others, you'll have a podcast script that sounds naturally conversational and easier to follow.
Seek Professional Help When Needed
It also helps to have someone else to bounce ideas off of or proofread your work. If you are having difficulty in writing a naturally conversational script, it may be beneficial to hire a podcast editor.
There are many experienced podcast editors, writers, and producers who can provide professional insight. They can help you craft a professional script that reflects the authentic voice of your podcast. This can ensure that your podcast script features natural conversation flows and language as a professional, entertaining audio product.
Create a Podcast Script That Reflects You
Writing a podcast script can be daunting, even for experienced podcast hosts. With the tips presented here, you are now equipped with the knowledge you need to write your very own script that will sound naturally conversational.
So take a deep breath, get to work on your script, and prepare to bring content that your listeners will appreciate and talk about! Get started with creating your podcast script today!
Did you like this guide? Great! Be sure to check out our other content!