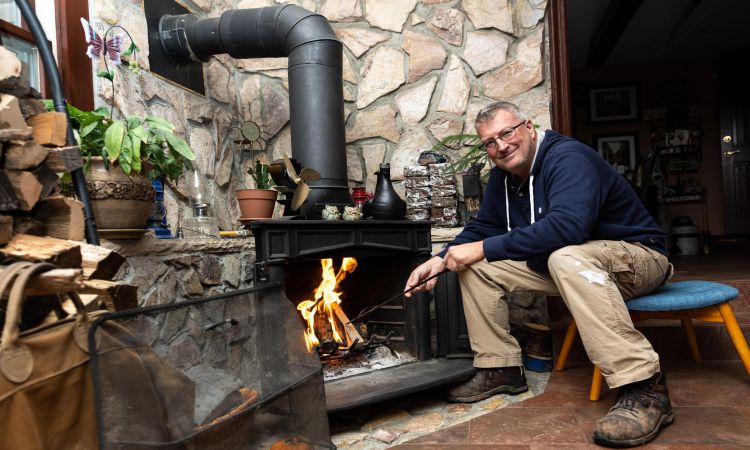 There's nothing quite like the warmth and ambiance of wood-burning fireplaces, with the crackling sound of logs in the firebox and the mesmerizing dance of flames. However, a hidden danger lurks beneath this charming picture: creosote chimney fires. Understanding the significance of regular firewood chimney cleaning ensures your home remains safe and sound.
The combustion process
Before diving into the importance of chimney cleaning, exploring the combustion process in more detail is essential. Burning wood in your fireplace releases smoke, which ascends the chimney. In doing so, it leaves behind particles, a highly flammable black or dark brown substance. Over time, these deposits accumulate on the inner walls of your wood-burning fireplaces, creating a potential hazard. Using properly dried firewood, such as what Burn the Wood provides, will result in less creosote accumulation.
The creosote hazard
The antagonist in this story, called Creosote, poses a significant threat. They are highly flammable and can accumulate within your chimney, waiting to catch fire, leading to a dreaded chimney fire. This wood fire is not to be underestimated, as it is capable of causing extensive burns not only to your small fireplace but also to your entire house.
The role of chimney sweeping log
Keeping your chimney clean is your first line of defense against creosote buildup, and one helpful tool in this regard is creosote sweeping logs. These cleaning logs are designed to break down creosote deposits, making removing the black substance inside easier. However, it's important to note that they are not a substitute for professional cleaning methods.
The professional chimney sweep
When it comes to safeguarding your home, there's no substitute for the skill of a chimney sweep. These professionals undergo rigorous training to thoroughly inspect, clean, and maintain your chimney. They possess the specialized tools, like chimney sweeping logs, and knowledge necessary to tackle even the most stubborn buildup.
By scheduling regular professional cleaning services, you take a significant step toward reducing the risk of a chimney fire. Not only does this protect your home and loved ones, but it also extends the life of your wood-burning appliance, ensuring its continued efficiency.
The importance of inspection
In addition to routine cleaning and chimney cleaning logs, it's essential to conduct regular inspections. This step encompasses checking for any damage to the flue, smoke shelf, or damper. Regular inspection of chimneys is a proactive measure that can identify potential issues before they escalate into more significant problems, further ensuring your safety.
The wood heating system
Your wood-burning appliance plays a pivotal role in your home's heating system. Regular chimney sweeps guarantee their efficient operation, providing the warmth and comfort you rely on during the chilly winter. Neglecting cleaning can decrease heat output and even smoke backflow into your home, compromising safety and comfort.
Safe wood-burning fireplace practices
Beyond regular cleaning and inspections, adhering to safe burning practices is essential. Always use dry, seasoned wood and install fire protection screens to prevent sparks from escaping. These precautions significantly lower the risk of fires and enhance your overall safety.
Final words
The safety of your home and family should be paramount when enjoying the comforting embrace of a wood-burning fireplace. Regular chimney cleaning, professional inspections, using a chimney cleaning log, and strict adherence to safe burning practices effectively shield against the devastating consequences of chimney fires. Don't wait for a disaster. Prioritize fireplace cleaning to keep your home safe and sound.